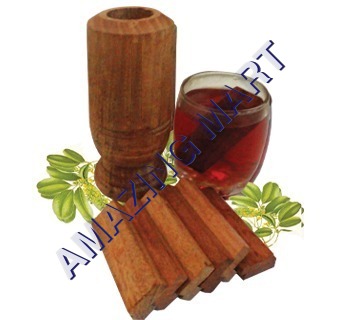 Product Description
Characteristics of Pt. Marsupium as per Ayurveda :-
Rasa (Taste) : Kashya (Astrigent), Tikta (Bitter).

Guna (Characteristics) : Lakhu (Light), Ruksha (Rough)

Veerya (Potency) : Sheeta (Cold)

Vipaka (Post digestion effect) : Katu (Pungent).

Actions according to Ayurveda :-

Rasayana : Pt. Marsupium rejuvenates each and every cell of the body.

Raktasodhana : Pt. Marsupium purifies the blood and removes all toxins from it.

Pramehaghna : Pt. Marsupium is useful in all disease which involve discoloration of urine including diabetes.
Benefits of Amrut Kalash :-
- It is made from heartwood of 100% Pure Pterocarpus Marsupium Herbal wood which is derived from minimum 10 years old tree.
- Pterocarpus Marsupium Herbal wood has been used for control of blood sugar in diabetes since ancient times in India.
- Regular use of Amrut Kalash significantly reduce blood sugar in diabetes.
- Modulates tissue glucose utilization in insulin dependent tissues.
- Delays onset of diabetic complications.
- Reduces fasting and post parandial hyperglycemia.
- Regenerates beta cells of pancreas.
- Reduces symptoms for diabetes like Production of large volumes of urine, excessive eating,intense thirsts, burning pains in limbs and general weakness.
How to Use Amrut Kalash- Amrit Ras :-
- Wash the tumbler with running water.
- Fill the tumbler with drinking water (Approx. 100 ml) at night.
- The water will turn reddish brown after 8-10 hours.
- Filter the colored water and consume it 10-15 mins. Before breakfast.
- Again fill the tumbler with drinking water.
- Consume the colored water 10-15 mins. Before dinner.
- Use it continuously for 30 days.
- Scratch the inside surface of tumbler with sharp object (screw driver etc.)
- Again use the tumbler for 15 days.
- After 45 days…place one herbal wood piece in tumbler and fill the tumbler with drinking WATER
Contact Us
202, 2nd Floor, 48, Nawada Housing Complex, Near Dwarka Mod Metro Station, Pillar no. 786, Jai Bharat Enclave, 55 Foota Road, New Delhi, Delhi, 110059, India
Phone :+918068214056