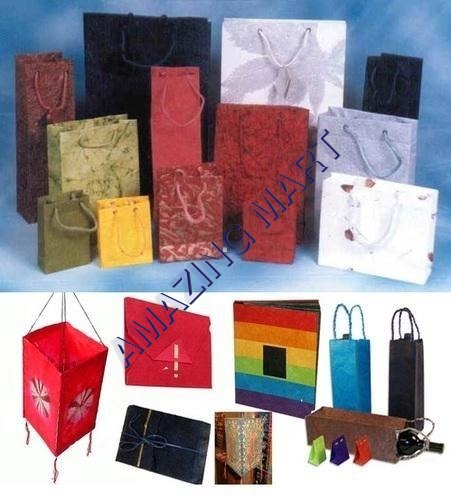 Product Description
Handmade Paper Bags

We are leading manufacturer of all type of Handmade Paper bags, Carry bags. We provide best quality to our clients with affordable price .We are famous for client satisfaction in our industry .
We make paper from bark of Daphne Bush and ensure that not a single tree is destroyed as a result of bringing the paper to you. These handmade paper and paper products are made according to traditional methods from the bark of the Daphne bush locally known as Lokta. This raw material is found in the hilly region from 3, 000 feet to 10, 500 feet. It grows in the shade of big plants in the forest of hilly region. Popular as the most exquisite and versatile papers, Lokta handmade paper has four deckled edges and is a very strong fiber which makes the paper very durable and can be store for centuries. That's why these papers are being used in government offices for official purposes because the records can be kept safe for 100s of years. Its also insect proof.
Currently we are doing wholesale export of Nepalese Lokta paper items such as notebooks, photo albums, prayer flags, lamp shades, writing pads, wedding items, invitation cards, wrapping papers, dairies etc.
Contact Us
202, 2nd Floor, 48, Nawada Housing Complex, Near Dwarka Mod Metro Station, Pillar no. 786, Jai Bharat Enclave, 55 Foota Road, New Delhi, Delhi, 110059, India
Phone :+918068214056