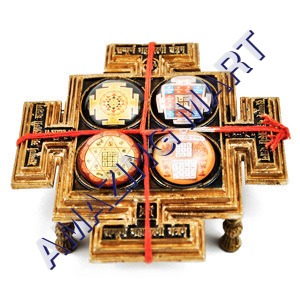 Product Description
Mahalaxmi Chowki
We are manufacture of all kinds Mahalakshmi chowki possesses cumulative powers of all those deities who provide wealth, prosperity, energy, strength, success and power
Install Mahalakshmi Chowki in North east direction of your house.
It consists of four major and important yantras as follows
Ganesh Yantra
Shree Yantra
VyaparVridhiYantra
KuberYantra
Ganesh yantraIt is used for worship before doing any important and auspicious work. This yantra removes all hurdles for getting success in their work. Shree Yantra
It gives us peace, luxury and prosperity. This yantra gives happiness to the devotee and devotee gets blessings of Goddess Mahalaxmi. By the grace of Mahalaxmi native gets good inflow of money and prosperity in their work.
VyaparVridhiYantra
As it represent by his name it increase the business of the devotee. Natives' get success in their profession and work day and night.
Kuber Yantra
It save and protects the money. If a native earns good money and good inflow of money but cannot save then we worship to Kuber Yantra.
Hence if a native establish and worship this Mahalaxmi Chowki then native will get the beneficial and good effects of all the above yantras for whole life and their family will rise and will get good prosperity in life.
Contact Us
202, 2nd Floor, 48, Nawada Housing Complex, Near Dwarka Mod Metro Station, Pillar no. 786, Jai Bharat Enclave, 55 Foota Road, New Delhi, Delhi, 110059, India
Phone :+918068214056