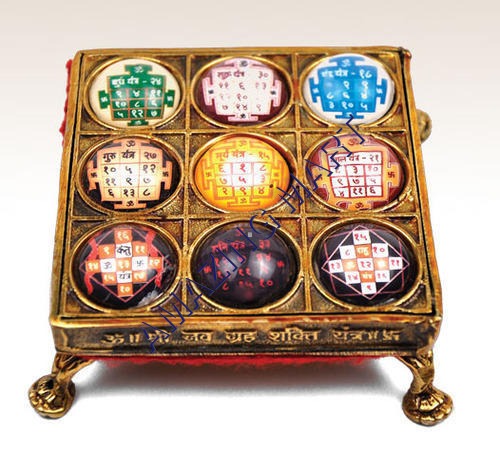 Product Description
Navgraha Chowki made in brass have a beautiful look and the Nine planets (Nav Graha) are placed on it. It helps to power the weak planets in one's kundali. Humans are also capable to tune themselves to the chosen energy of a specific Graha through propitiating that Graha or its presiding deity in a prescribed manner.It gives peace mentally which leads to a healthy and prosperous life.
According to Vedic Astrology, the planets (Navagraha) are relay stations for the reception and transmission of stellar energies.
In Vedic Astrology, the seven major or visible planets are normally listed in order of the days they rule: Sun, Mars, Mercury, Jupiter, Venus, Saturn for Sunday, Monday, Tuesday, Wednesday, Thursday, Friday and Saturday. These seven planets along with the shadowy planets Rahu and Ketu are called as NAVAGRAHA in Vedic Astrology (Jyotish). All the principles and theories of jyotish or vedic astrology is based on the planetary positions and house position of Navagraha.
Contact Us
202, 2nd Floor, 48, Nawada Housing Complex, Near Dwarka Mod Metro Station, Pillar no. 786, Jai Bharat Enclave, 55 Foota Road, New Delhi, Delhi, 110059, India
Phone :+918068214056